The rising influence of US sportsmen and women has led to players' unions ensuring their collective marketing potential is left in their own hands. SportsPro spoke to key NBPA and NFLPA figures who highlight the changing face of group licensing rights.
By: Sam Carp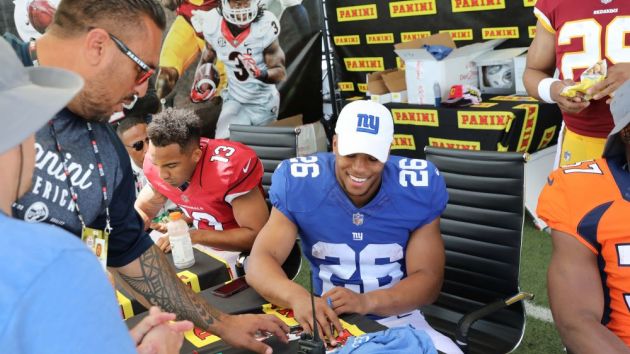 Backed by the evolution of social media and technology, along with more exposure on television than ever before, athletes now represent some of the most marketable people on the planet, transcending the space in which they play to become public figures who have the ability to connect with fans like no other group of individuals.
There is perhaps nowhere that that sentiment rings truer than in US sport, where the world listens when someone of basketball icon LeBron James' stature speaks out against racism, or where a national anthem protest led by a National Football League (NFL) quarterback can quickly become global news. American athletes are powerful people who find themselves at the forefront of sport, popular culture and entertainment. And now, it would appear, players in the major leagues are starting to wake up to some of the opportunities that can come with having such wide-reaching influence.
In the past, it has often been the case that US sports leagues, rather than the players themselves, have exercised control over group licensing deals which cover traditional product categories such as merchandise, video games and trading cards. Now, though, more and more players' unions are taking those group licensing rights back in-house in an attempt to seek greater return on the marketability of their members.
Last year, the National Basketball Players Association (NBPA) did just that, having spent the previous 20 years effectively outsourcing its group licensing rights to the National Basketball Association (NBA), which would then secure licensees and share any revenues with the union. The new arrangement dictates that while players are still in charge of their individual endorsements and the league continues to control the use of its team's names and logos, the NBPA now controls the rights to the players as a group, as long as they aren't in uniform.
"Our players told us that they wanted to have a bit more control in the process because we didn't have any the way it was before," says Jordan Schlachter, the NBPA's chief marketing officer and president of Think450, the union's recently established marketing arm. "They wanted to have a little more input into the kinds of companies that were using their licenses.
"We want to be the first and foremost source for basketball lifestyle here in the US and globally around the world" – Jordan Schlachter
"Most importantly, the group licensing agreement that we had with the NBA barred us from doing new business opportunities that we wanted to do, so we couldn't have official partners of the NBPA and we couldn't create our own content and commercialise it in any way. Those are areas that players are very interested in individually but also collectively as a union, so we really wanted to explore new business opportunities as well as make sure we had the right input on the licensing part of the business."
Under the terms of the arrangement, the NBPA can now strike deals with brands that are not official sponsors of the league. For example, while PepsiCo is the official food and beverage partner of the NBA, there would be nothing standing in the way of Coca-Cola doing a deal with a group of players through a partnership with the union, providing it did not use logos that belong to the league.
For the NBPA, the arrangement has opened up a wealth of new commercial opportunities. During this year's NBA All-Star Weekend in Los Angeles, the union rebranded The London Hotel in Beverly Hills as 'One Court', where more than 30 brands such as Lamborghini and Postmates were able to activate their partnerships. And, according to Schlachter, it is in combining those new revenue streams with the league's existing deals that the union will build on the estimated US$41 million it received in its last payment from the NBA in 2016.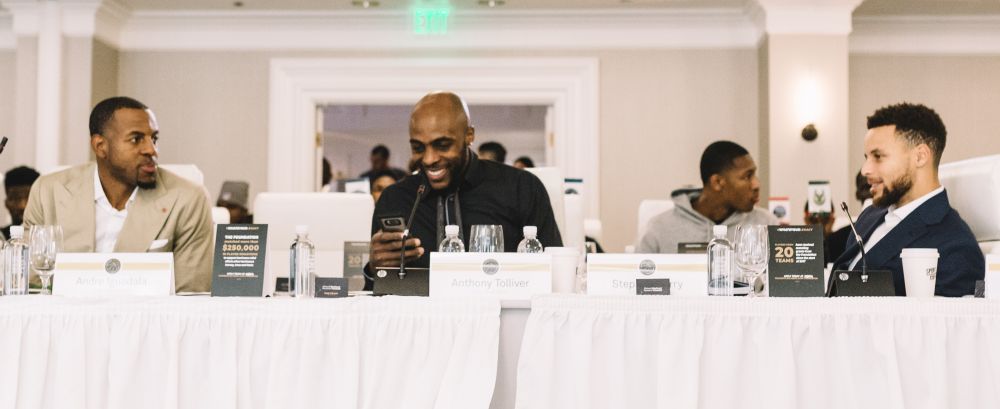 "For starters, we're not looking to disrupt any of the deals that have been done before; we're just looking to add growth to it," he explains. "But we also know there are lots of opportunities to create some licensed products based on player images only that don't necessarily have to have team marks as well, so those are our new business opportunities, and there might be some new licensing partners that we bring to the table that the NBA wants to partner with us on as well."
Schlachter acknowledges that the NBPA is by no means a trend-setter in this space, given that it was the last of the major unions to take control of its group licensing rights. Think450, whose name represents the union's belief that its duty is to benefit all 450 active NBA players, is modelled closely on NFL Players Inc., the licensing and marketing subsidiary of the National Football League Players Association (NFLPA).
NFL Players Inc. has long handled the rights of its 2,000 players, accumulating approximately 70 licensees including the likes of video game publisher EA Sports, collectibles giant Panini and Fanatics, the SoftBank-backed apparel and merchandise firm. The organisation generated US$150 million in revenue in 2015, and that figure is projected to surpass US$200 million by 2020.
Building on the success of that venture, the NFLPA recently announced the launch of REP Worldwide, a 'groundbreaking' and 'first-of-its-kind' athlete representation company set up to work with players and properties across a range of sports. Upon launch, NFL Players Inc. was joined as a founding partner of the firm by the US Women's National Team Players Association (USWNTPA) and the Women's National Basketball Players Association (WNBPA).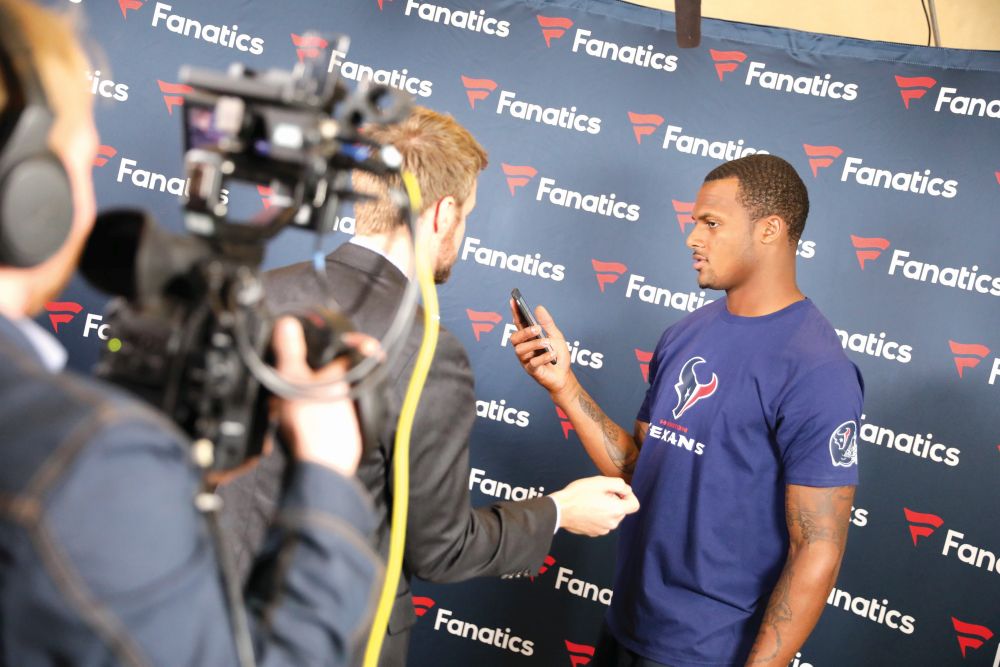 According to Steven Scebelo, the NFLPA's vice president of licensing and business development and president of REP Worldwide, the formation of the new company not only acted as an indicator that players' unions have grown more business-minded in their approach to group licensing programmes, but also served as a reminder that athletes are also starting to recognise the value of those rights.
"I think there's more sophistication on the part of the players; I think there's a recognition that they can become brands," Scebelo says. "Even for those that don't make it to that top upper stratosphere of the player ranks, they still see the value of being part of this group licensing programme even if it's not necessarily their likeness that's on the t-shirt, but they happen to be in the video game or in the trading card collection somewhere, so they're going to be eligible for the equal share of imbursement that comes out to them.
"The opportunity and the upside that the players are seeing is that their business is always going to be most important to them. So if you handed over to an outside agent, or in their case the league, the league's primary focus is going to be doing what's best for the league, so by its very nature the players' rights when being represented by the league become secondary, and that's not in the players' best interests."
What's more, explains Scebelo, REP Worldwide can help players' unions in sports which might not have the resources or infrastructure to build a revenue-generating group licensing programme. He notes how athletes in the Women's National Basketball Association (WNBA) are already profiting from partnerships with four licensees, while United States Women's National Team (USWNT) soccer players are tied up with six deals, including a landmark agreement with Fanatics, which has made the team's officially licensed customisable player replica jerseys available for the first time ever.
"I think there's more sophistication on the part of the players; I think there's a recognition that they can become brands" – Stephen Scebelo
"It's been the reception that I've been most impressed with," says Scebelo, "because it validates our belief that there's opportunities for these programmes and interest in player products, so to be able to have the traction we have, not just for the contracts that have already been signed, but for the ones we are in conversation with and are excited to be talking about launching.
"These players' associations were told in the past that there's no demand, so it was kind of a simple dismissal of: 'we're not signing licenses for you because no one wants them.' I think we're disproving that and being able to show that there is a demand, but you have to work a little bit for it. Also, the fact that our two founding partners are women's sports allows us to reach out to companies that are maybe not traditional licensees, but see the potential to be able to launch and get into sports licensing and reach the fanbase of women's sports."
For the NBA's players, it is the members of the Think450 board who are tasked with identifying new off-court opportunities that extend beyond the traditional categories of video games and collectibles. One of the new organisation's key hires is Charles King, the chief executive of Macro, a media brand which finances content representing the voice of persons of colour. King's input is likely to prove particularly valuable, especially given that the NBA is perhaps the most diverse of the four major sports leagues in the US, with nearly 25 per cent of its players born outside of the country.
While some of the biggest names in the NBA have established their own digital media companies – such as the aforementioned LeBron James' Uninterrupted and Steph Curry's Unanimous Media – Schlachter believes creating and distributing NBPA content will help tell a broader story, allowing fans to relate to all of its players away from the court. To that end, Think450 is also tapping into the resources and expertise of international marketing agency Dentsu Aegis Network.
"I think with technology today players have a good understanding of the impact and influence they have on society – even if they just focus on social media," he says. "The NBA does such a fine job of marketing the 48 minutes of a game so we really consider ourselves more of a lifestyle brand that wants to capitalise on the other 23 hours and 12 minutes of a day. We want to be the first and foremost source for basketball lifestyle here in the US and globally around the world.
"We know that there are lots of NBA stories to tell, and in my opinion we have 450 stories we can tell all the time, so we're going to start telling those stories, start creating that kind of content around it and then how we distribute it is one phase of our growth that is going to be really influential. Are we going to have our own channel, are we going to do partnerships with other distribution partners, or are we going to do both? We need to figure that out."
If the NBPA were to turn to content deals with third-party distribution partners, it would not be short of options. A host of new media players have started to look at sport as a compelling content vertical, with companies like Netflix and Amazon Video investing in original programming and behind-the-scenes documentary series in a bid to appeal to new subscribers.
It is an area in which REP Worldwide is also interested. With more media opportunities opening up away from league and team-owned channels, a key focus of the company is on helping unions create innovative crossover content featuring their players. A prime example of that, says Scebelo, is the work ACE Media, NFL Players Inc.'s content division, did with Warner Bros to produce a video of USWNT defender and video game fanatic Becky Sauerbrunn being put through her paces by the coach who trained Alicia Vikander, the actress who played Lara Croft in the latest Tomb Raider movie.
"I think the demand for content just continues to grow as platforms continue to grow, and athletes are so identifiable – more so now than ever – because of social media that they serve as a great basis for content," Scebelo says. "When we go out and talk to potential partners for REP Worldwide, we will talk to them about ACE Media and some of the things that we might be able to do to help develop content opportunities for the players that we're going to be representing group licensing rights for.
"There are a lot of opportunities out there, and I think it really works well together to have the athlete featured in off-the-field media pieces. Building familiarity with the fanbase and allowing the fans to get to know them on a different level we think is going to drive interest and demand in any of the licensed products that are out there as well."
Going forward, then, it is clear that group licensing deals are only going to evolve for as long as technology continues to reciprocate – and for as long as players continue to nudge their unions in the direction of new relationships within emerging industries.
In the case of the NFLPA, a recent agreement with augmented reality company Octi might hint at the type of deals the union is looking to seek out, with all NFL players set to have their avatars created and commercially distributed through the partnership. Scebelo stresses, however, that while more established unions such as the NFLPA can afford to be more forward-thinking in their approach, it is important for those that are just starting out with REP Worldwide to first exploit traditional areas that have long been the foundation of profitable group licensing programmes.
"I think the initial opportunities are going to be in those core categories because traditionally there hasn't been a lot of product out there for these programmes," he continues. "We're going to start in the areas that make the most sense. I also think that because we can be a little bit more nimble and flexible and maybe take risks on smaller companies who are willing to bet on the upside proposition of these partnerships, that we're going to be able to break ground with some companies that may become bigger players along the way but start with some of these player associations.
"Our players are so sophisticated, savvy and eager to explore new business opportunities, and that's the beauty of what we do" –  Jordan Schlachter
"On the NFLPA side, for example, we've been having conversations recently about crypto collectibles and virtual collectibles built on the blockchain. When we introduce REP Worldwide, some of those companies are definitely interested and would like to include those player associations in a collection as well, so that's been nice to hear."
Scebelo is keen to emphasise that the players from each union within REP Worldwide are regularly consulted about potential group licensing deals. For Schlachter, too, the level of player engagement is particularly high. He says that NBA stars are regularly knocking on his door with new business ideas that they've either spotted or are already invested in – from wearable technology to what an NBA token might look like in the Bitcoin space.
"Our players are so sophisticated, savvy and eager to explore new business opportunities, and that's the beauty of what we do," he explains. "You look at the rise of cryptocurrency and blockchain and Bitcoin – we are presented all the time with many opportunities to explore those kinds of new businesses.
"We're doing it carefully and in a measured way, because we want to make the right kinds of deals. We're learning as we do that, but we're not learning just because people are coming to us or because I'm the one saying we need to be in this space – we're learning because players are bringing those opportunities to us."
Read the original article here www.sportspromedia.com